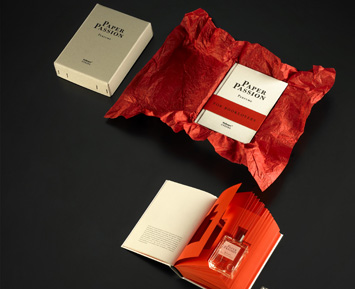 Courtesy of IPC Media
The international design and style bible Wallpaper*, together with German publisher Gerhard Steidl, fashion icon Karl Lagerfeld and celebrated perfumer Geza Schoen, has recently launched Paper Passion, a perfume that brilliantly captures the scent of freshly printed books. It is divinely packaged and a thing of beauty.
And we have been given one bottle (valued at over £60) with which to reward a friend of TripFiction! We would like to invite you to "like" us on Facebook and "like" the Paper Passion post. And on 1st January 2013 - which marks the first anniversary of TripFiction - we will choose one person at random who has visited and "liked" our page and post up to that date. They will then be sent the perfume. This is a big thank you to all of you who have actively supported us in this, our first year.
Just click on the link below and you will be taken straight to our Facebook page. "Like" our main page and "like" the Paper Passion post for your chance to receive this wonderful item.
https://www.facebook.com/pages/TripFiction/170507589708729?ref=hl
BookishWanderer received Paper Passion early January 2013.