"The Other Child" by Charlotte Link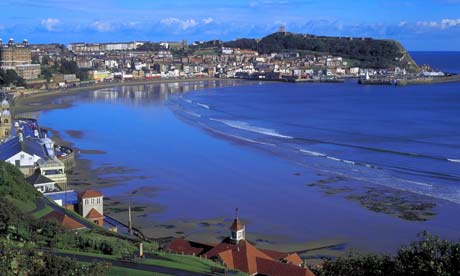 Photograph: Britain on View
This is lovely Scarborough on the East Coast of Britain. We are always
pleased to discover new books set in non-mainstream locations, whether,
say, Scarborough or Sheffield or Harwich - they all have their own individual
"feel" which
authors bring to life, in tandem with a good storyline.
Of course,
at
Tripfiction on a daily basis, we accumulate a host of books that
evoke
the feeling
of places both large and small. "See a location through an author's eyes".
And as we do our researches, we are delighted to find books that
perhaps do not come to the forefront in bookshops, or for whatever reason have not got the publicity they deserve - but are in their own way brilliant. And on our blog and Facebook we share them with you!
So, today, we feature a novel set
in this part of North Yorkshire -
and as it says
in the book: "Yorkshire is
becoming one of the most popular
holiday destinations
in England."
The author, Charlotte Link is, in fact German and "the Queen of German crime"
so we are incredibly curious to
know how came she chose Scarborough
as her location - not the most obvious
choice for someone raised and based
abroad!
The Other child by Charlotte Link

Wander past the North Bay, down Prince of Wales Terrace, Huntriss Row and find yourself at the Crowne Spa Hotel. All of these real locations appear in Charlotte Link's book, The Other Child. It is steeped in the feel of the city. How about this wonderful description of the town: ..."two large semi-circular bays divided by a spit of land, as well as its old harbour, the fine houses up on South Cliff, and all the old-fashioned hotels whose façades had to stand up to the wind and the salt water and so were always peeling a little."

(excerpt)
And what of the novel itself? It opens with an early murder and then comes to focus on a group of people have come together at the delapidated farm of Chad Beckett, just outside Scarborough, to mark the proposed engagement of Gwen, Chad's dull daughter and Dave, an itinerant language teacher. Staying at the farm are paying guests, Jennifer and Colin and for good measure their 2 Great Danes. Newly divorced Leslie arrives from London, and attends the gathering with her Grandmother, Fiona. Fiona and Chad have a long standing relationship, going back to World War II, which is explored separately in the book. Investigating the original murder and a second victim are DI Valerie Almond and her side-kick Sergeant Reek. These guys are the weak link in the story and one can only hope their bumbling investigations do not reflect reality.
It is a very readable crime novel, it veres one way, then another and produces a few red herrings. It reinforces the progress of the story by exploring the musings of the various characters and it is fast paced.
There are some anomalies, however, both in the translation and factually - for example, it describes a British family in North Yorkshire, just after the war, eating bread and salami. Er, unlikely. That is what a German family might have been eating but we think it is more likely an English family would have been eating spam! What do you think - Spam v Salami??????
So, this book is very much like the proverbial Curate's Egg -- good in parts. But the author must be doing something right, as on the cover it says "16 million books sold". Enjoy!